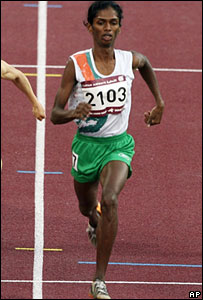 There is a story about an Indian athlete, Santhi Soundararajan, who has failed a gender test. It's confusing because she passed a different gender test earlier this year.
Here is my question, why are the sexes divided in sports? I've talked about this before:
Every time I ask this question, I get the same two answers:
Stay in your own sports where you belong.

The guys would kick your butt!
To the former, the "separate but equal" argument just doesn't hold water and to the later, fine, bring it on! If we have to have a gynecologist, psychologist AND an endocrinologist just to figure out whether this human deserves the silver medal, then we should just make things simple and integrate the sports.
Previous: Make a Running Resolution
Next: Dilbert Self Censorship

4 Responses to "Why Are The Sexes Divided In Sports?"
Leave a Reply
-