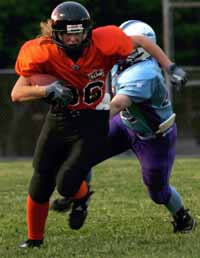 If you missed it, there has been a heated discussion about why women should be allowed in the NFL on my previous entry:
I believe all sports should be integrated and women should be allowed to compete with men and against men. Adjusting the rules of team sports games to be more like softball where there must be an equal number of men and women on a team is probably the most efficient way to accomplish this.
Segregating the sports isn't the answer. Women's football doesn't provide as much access to corporate sponsorship because it doesn't get equal time on television. Women's basketball is filled with amazing athletes that aren't allowed access to the financial opportunities that the players in the NBA are.
If you don't believe this, log on to ESPN.com and try to find women's sports. There is no mention of the WNBA on the front page at all. You have to hunt and search for it. Hunt and search ESPN.com for NWFA (National Women's Football Association), and you will find NOTHING. So much for separate but equal.

In the end, segregation HURTS sports.

There are women who would have been the next Michael Jordan, but they were discouraged from entering sports because, "No one will watch you play," or "There's no money in that for women." Just like when racial integration took sports to a whole new level, gender integration will do the same. Excluding half of the human race from participating in a sport makes the sport "gene pool" smaller, less diverse and ultimately poorer for it.
Just saying it amazes me. Half of the human race is not allowed to even try out for the NFL, the NBA or major league baseball. It doesn't matter how good they are, they are just not allowed to play. How did we let it get to this point?
Every father who has a daughter should boycott all sports until they allow women to compete. How could we support an institution that rejects half of all our children just based on a 1-6 inch flap of skin?
Previous: Honey We're Killing the Kids
Next: Exercise VS. Eating Healthy

35 Responses to "Why Women Should Be Allowed To Compete"
-