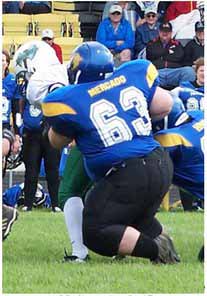 Anica Mercado started out her weblog entry with the following phrase:
"This weekend entailed a roughly six hour drive to our first away game."
I saw the picture of football players and thought to myself, "She must be a cheerleader." It was so beyond my cognition to think that she could actually be playing on a football team herself. Man, just when I think I'm totally forward thinking, my prejudices smack me in the face with a Whiffle bat.
After playing a couple of games, she has dreams as big as any football player has had:
"I've also been sitting here and thinking about my dreams. I'm a big dreamer. So, baring my soul to you all, I will divulge one of my bigger dreams: I want to play football in college. If I'm really, really shooting, I want to be the first woman in the NFL."
She immediately follows her declaration with a dismissal…
"Now, I'm not stupid, I know that those are very, very unlikely. Like I said though, I shoot high."
Why does it have to be very, very unlikely? I think the NFL should play like softball, where you have to have a minimum of 45% women on the field. If we integrated sports that way, then we could prove how well women can do in sports. Why do we have separate women and men's leagues? We should require each team to play with half women and let each team be equally balanced. I think they'd be surprised at how strong us girls are.
Good luck, Anica! May you be the first woman in the NFL!
Previous: Running Skirts Tested
Next: Honey We're Killing the Kids

13 Responses to "The First Woman in the NFL"
-