I was looking at Google Trends to find out what's going on in the world. I compared Exercise with Eating Healthy and I was surprised to see what I found: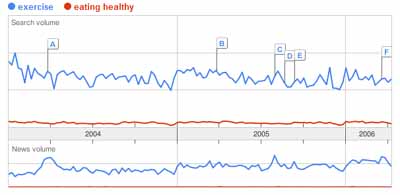 The blue line shows the activity surrounding "exercise" and the red line shows the activity for "eating healthy." It seems that "exercise" is getting a lot more news media and search activity than "eating healthy."
For me, exercise was the first step. I had decided to never diet ever again and I was just going to concentrate on walking and running. I was going to be strong and active, even if I was going to be fat. I lost a little bit of weight from this determination.
It wasn't until I learned how to truly eat healthy, however, that I started to lose weight. It's a two-fisted approach. Just eating healthy might help you lose weight. Just exercising might help you lose weight. Both together and you are guaranteed.
So why is "exercise" so much more popular in the searches and news articles than "eating healthy?"
Because exercise can be fun and eating healthy just sounds boring…
There are so many ways to be active that are truly fun, but no one has really come up with a way for eating healthy to be enjoyable. It seems like eating healthy is just a matter of taking away "good" things from our lives instead of giving us a benefit like stronger bodies.
Tune in tomorrow to find out why I think eating healthy can be fun.
Previous: Why Women Should Be Allowed To Compete
Next: Eating Healthy Can Be Fun

5 Responses to "Exercise VS. Eating Healthy"
Leave a Reply
-