Mana Energy Potion sponsored a treadmill modification to complete a race in World of Warcraft.
What they did was modify some inexpensive treadmills to simulate pressing the "W" button.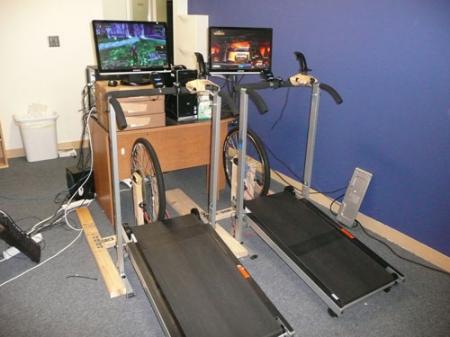 Then they had a virtual race across Azeroth, which is an area in the game, World of Warcraft. Do you think running in World of Warcraft with these treadmills will be easier or harder than running in a real forest? You can see how they did here:
In the end, they ran 1 mile in the game, but only ran 1/2 mile on the treadmills. The game had them running at 12.0 mph, but the treadmills logged only 6.0 mph. So, running in World of Warcraft is still easier than running in the real world, even with fancy treadmills.
The race was sponsored by Mana Energy Potion, which is a high calorie energy drink. This may seem like a good promotion for fitness, but in actuality, they are promoting a drink that isn't very healthy, so be forewarned.
Previous: SLB's Bulldog 25k Trail Race
Next: Turn Dieting Into a Game with Weight Watchers

5 Responses to "A Virtual Race In The Real World"
Leave a Reply
-