I always thought the Weight Watchers Points system to be the easiest way to keep track of your food, but it looks like Clive Thompson at Wired Magazine has noticed how much it resembles playing a game.
Indeed, I'm in awe of the sheer brilliance of Weight Watchers in adopting the word points as its metric for measuring food. The word immediately shoves the user into the semantics — and fun — of gameplay. You regard losing weight as an intriguing challenge, as opposed to a mere grind.

This puts me in mind of the talk that Jane McGonigal — a brilliant and pioneering alternative-reality game designer — gave at this year's South by Southwest conference. She argued that game designers ought to put their skills to use in the real world by reshaping dull, everyday activities into fun challenges. Why not a game that gives you points for walking your dog or jogging?
You can make this a game for yourself pretty easily without the use of Weight Watcher's expensive eTools. All you have to do is use the Weekly Goals Sheet that you can download for free here: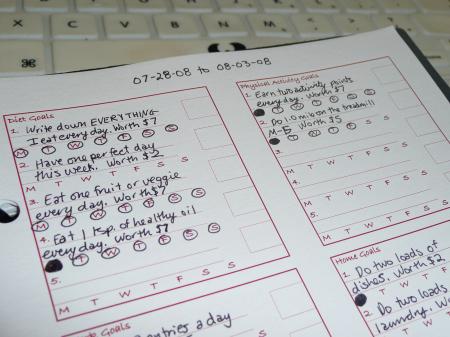 Give yourself goals for every day of the week and choose a reward for each one. In my example, I've been just bribing myself with money, but you can use whatever reward you want for each goal. Whether exercise, eating, getting your chores done or whatever you goals you have, this goal sheet is the first step on the way for you to achieving them.
Previous: A Virtual Race In The Real World
Next: Weight Management: Don't Be A Fail Dog

Leave a Reply
-