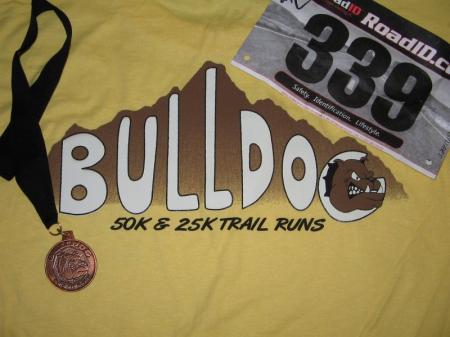 After fighting through injuries and problems, SLB finished the Bulldog 25K Trail Race. He talks about it here:
His descriptions of the race trail make this an enjoyable read.
The first miles took us along the side of a dried out creek bed and then along the appropriately named Crags Road, so called due its "cragginess", basically a it's a dry river bed complete with the prerequisite jagged rocks at every turn, beaten down over the years into a trail but pretty gnarly at best.
Remember, losing weight and exercising isn't only about looking good. It's about doing things that you could never even imagine doing before. You can go places and achieve things when you are healthy that you can't do right now. That's yet another reason to keep eating well and exercising.
Previous: Hiking for Weight Loss from Hike Hacker
Next: A Virtual Race In The Real World

Leave a Reply
-