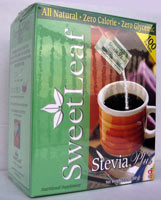 I saw the sweetener at Wild Oats. It was in a bright green box and cost a whopping 25 bucks, but I thought I would try it. It's supposed to be natural, right? It tasted good. It only took a tiny amount to sweeten my herbal tea. I was happy with it and didn't think much about the reason it was marketed as an herbal supplement instead of a sweetener.
The reason it is marketed as a herbal supplement instead of a sweetener (or any other type of food) is because they haven't bothered to go through the FDA process of proving that Stevia doesn't kill people. They haven't even proved that Stevia is zero calories.
Think of all the products who go through the rigorous testing that the FDA requires and still kill people. I tossed my very expensive box in the garbage. Until they bother proving to me that the product is safe, they aren't getting any more of my money.
Previous: Enjoying Myself
Next: StrengthCast: Caffeine / Ken Gibson

4 Responses to "Stevia: Is It Safe?"
-