The only reason I know that this fruit stand was in a foreign country is because the newspaper the fruit is sitting on is in Spanish.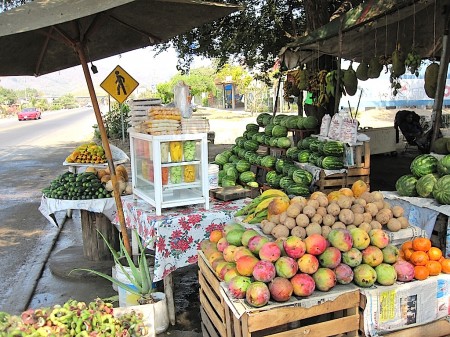 I believe I took this photo while we were on an excursion on a cruise. I vaguely remember eating fruit out of a plastic cup.
The funny thing is, when I remember all the cruises I've been on, I can hardly remember this glorious fruit stand. In fact, I remember very little of the food from the cruises. I ate constantly while I was on them, but the memories of the food are hazy and vague.
What I DO remember from the cruises was playing trivia and winning a trophy for it. I remember sitting on the balcony off our room, relaxing, reading and talking with my family. I remember swimming with manta rays in Cozumel.
I remember seeing whales in Cabo San Lucas.
I easily gained ten pounds on each cruise I went on, but I don't remember the food at all. I'm going to learn from this. I'm going to remember ONE thing about eating on cruises: I'm not going to remember it, so I might as well eat as little as possible.
Previous: Old Pics and State Fair Corn
Next: PostSecret: I Thought I Was Fat

Leave a Reply
-