This postcard from PostSecret broke my heart.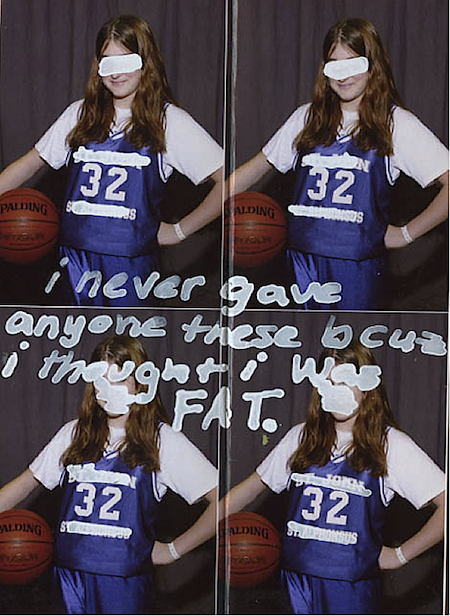 It reads:
I never gave anyone these because I thought I was fat.
When I saw these photos, I imagined the person who didn't get them. There was SOMEONE in love with this girl. I don't know who that person was, but they did not get the photo. That person wished that she would give them a photo. That person cried when the photos came out and didn't get one because they believed that someone else got all the pictures instead of them hiding in a box somewhere.
If you think you're fat, STOP DOING THIS! If you KNOW you're fat, STOP DOING THIS! There is someone out there RIGHT NOW, who loves you. That person WANTS a photo of you in all your "fatness." Whether your fatness is real or imagined, don't let it stop you from getting the love you deserve. There is someone out there who wants to love you. Don't disappoint them. Don't push them away. Give them the photos.
---
PostSecret's beneficiary is the National Hopeline Network. It is a 24-hour hotline (1 (800) SUICIDE) for anyone who is thinking about suicide or knows someone who is considering it.
Previous: A Fruit Stand: How The Heroine Ate Her Way Through Cruises
Next: Gym Pet Peeves

Leave a Reply
-