Weight Watchers started a brand new plan yesterday called PointsPlus. Rather than allow their precious plan information to leak a tad early, they opted to disable their iPhone app completely. For the last two days, I haven't been able to use my Weight Watchers iPhone app to record my food. Rather than allow me to use the old program they have COMPLETELY disabled my program.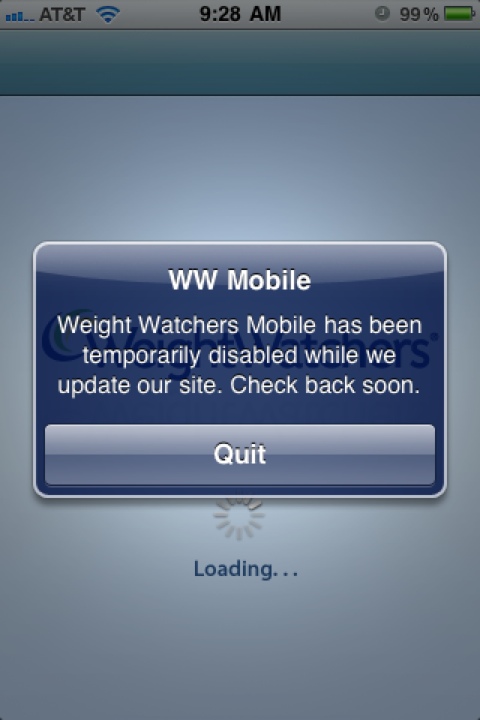 Sorry, Weight Watchers. I really love your meetings and my leader, but your corporate decisions have been so shortsighted that you consistently let me down. What is the matter with you folks at a corporate level? Why aren't you more like the local leaders and staff?
I revamped my Edibles app on my iPhone and it's logging my food and exercise just fine, by the way.
Here's how to do it: How To Use Edibles with Weight Watchers PointsPlus
Update 12-02-10:
I have now downloaded the new app, but it requires me to "update my account" on their website. I've checked my address and looked at my status, but the entire website seems to have forgotten who I am and that I've been a member for YEARS.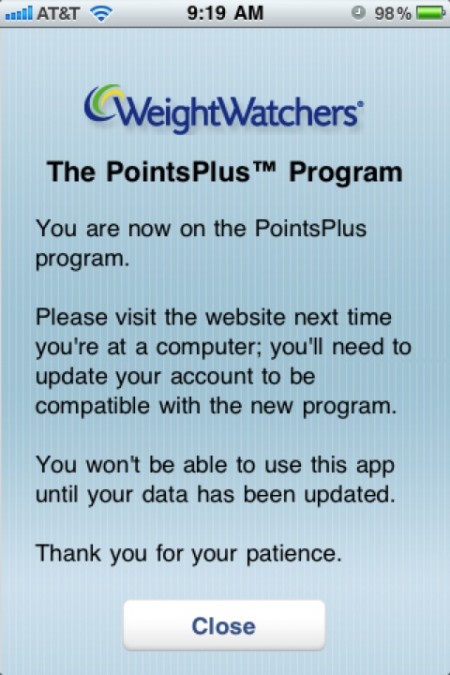 An email to tech support resulted in an automated response with a promise of an answer within 24 hours. I am almost finishing my first week on the PointsPlus program and I'm seriously UNIMPRESSED with how they transitioned my iPhone app and eTools account.
Previous: How To Use Edibles with Weight Watchers PointsPlus
Next: I Am An Action Figure

3 Responses to "Weight Watchers Epic Fail"
Vi Says:
November 30th, 2010 at 9:32 am

I thought it was WW genuinely updating the plan and site online. There was an entire database worth of points that needed changing.

I tried to log on several times to WW Online after midnight on the day of the big reveal but the site was down for maintenance.

kkb Says:
November 30th, 2010 at 8:55 pm

I am peeved! How am I supposed to do this without my tools? Seriously, this is most unprofessional. They should have had this ready to go at the blitz day. Are they going to refund our money for the days we are paying for and getting nothing?

Wendy Blackheart Says:
March 28th, 2011 at 10:18 am

Since I'm not a member of the WW site (too expensive for me, I go to a meeting now and then with my mother, but that is it) I found an app called Weight Watcher's Diary that works just as well for me. It tracks my daily points, my weight, my weekly points (if I use them) and I can input activity points. Plus, it saves my favourite food, and keeps a log of the other things I input, so I can go 'oh yeah, that sausage was 8 points, not 5. Durr'. Its free, though I've been meaning to donate via paypal since I love this app so much.
Leave a Reply
-