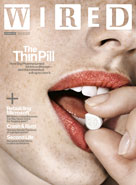 This month's Wired Magazine has an in-depth article about weight loss medications and the drug companies that are spending millions of dollars trying to convince you that being even slightly overweight is a disease of epidemic proportions.
They are trying to have Metabolic Syndrome classified as a disease so that they can promote their pills to "cure" it. In reality, Metabolic Syndrome is just another name for obesity.
"But some wonder if metabolic syndrome really identifies anything new. Skeptics, which include the American Diabetes Association, suggest that researchers, physicians, and pharmaceutical companies have been so hasty to embrace the disease (each for their own reasons), they've overlooked evidence that the science behind the diagnosis is flimsy and conjectural. These critics say that so-called metabolic syndrome lumps together risks we already recognize and monitor – or worse, that it's just a fancy way to describe obesity. By accepting it, we medicalize a lifestyle condition that we already know how to treat: with diet and exercise."
Don't let the pharamaceutical industry take away your will. You have everything you need to become healthy and thin. Eat less and move more. It's free. If the pharmaceutical companies are willing to spend millions of dollars just to create a disease, then you can just imagine what they will charge for a pill to "cure" it.
You can lose weight on your own without fancy pills or exercise gadgets. Don't let anyone tell you otherwise.
Previous: Review: The Nike Imara Heart Rate Monitor
Next: Fall Running Is Awesome

5 Responses to "The Thin Pill"
Leave a Reply
-