I got a Nike Imara Heart Rate Monitor for Christmas last year, but I haven't done a review for it. Want to know why?
I don't like to give bad reviews.
I only write one entry a day on Starling Fitness. I'd rather not waste the entry talking about things that don't live up to my expectations.
Yet, it's almost a year later and I'm finally writing a review. What changed?
Nothing. The reason why I hate my Nike Imara is the same. It doesn't work with my treadmill. I can exercise on my bike and have no problems. I can play DDR and have no problems. I can weight train and no problems. I can even run on a treadmill at the gym with no problems, but it constantly runs into interference on my treadmill at home. The treadmill is my favorite exercise device, so when I realized that my brand new spiffy heart rate monitor didn't work with it, I hated it.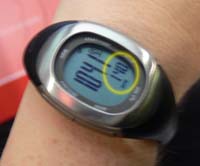 That didn't stop me from wearing it, though. It's a watch that looks good enough that I can wear it every day. I wore it to CES and used it to measure my heart rate when I tested the exercise toys there. I used it every time I played DDR or rode my bike. I stubbornly even wear it every time I run on my treadmill with the pathetic hope that, "Maybe this time it will work…"
I love how it tracks my calories and how much time I exercise in the low, medium and high ranges. I love that it's water resistant up to 50M, so if I'm lazy, I don't even have to take it off when I shower. In fact, I've been wearing my Nike Imara almost constantly ever since I got it. That is unheard of for me, since I used to change watches like jewelry.
That's when I realized that I love my Nike Imara.
It still doesn't work whenever I run on my treadmill, but it has been a watch that's a good friend for almost a year now. It's so rare for me to find a watch that I enjoy that when I finally found one, it took me 10 months to realize that I actually loved it.
---
Features:
Time and Date on the same screen – The date shows the day of the week and the date (not the year or month).

Dual Time – If I hold down a button, the watch switches to a second time zone.

Watch Light – I feel silly for mentioning this, but you would not believe that number of women's watches that DON'T have a light. Do they think I'm not allowed out after dark? I use my watch to tell time in the middle of the night because I'm so blind I can't see the clock five inches away from my face. A watch light is essential to me and lack of it is a deal breaker.

Chronograph (Stopwatch) – Displays workout time and will show calories, heart rate or heart rate percentage (toggle with the start button).

Interval Timer – Also called a countdown timer. I love this feature on other watches, but I hate it on this one because the beep is so quiet that I usually miss it.

Data – It will store the data from your last workout until you clear it on the chronograph.

Alarm – Works like any other watch, except the beep is so soft that you'll probably miss it.
Previous: Dance Factory Review at The Gadgets Page
Next: The Thin Pill

51 Responses to "Review: The Nike Imara Heart Rate Monitor"
Leave a Reply
-