This postcard from PostSecret seems like a beam of hope to me.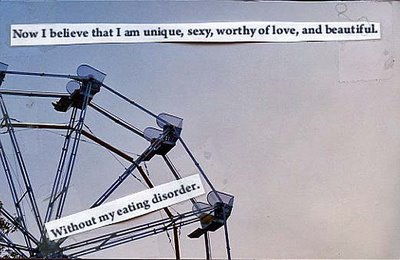 It reads:
Now I believe that I am unique, sexy, worthy of love, and beautiful. Without my eating disorder.
Many of these postcards are damaged in the mail. Is there something missing from this postcard? It looks like there is room for another sentence.
The Ferris Wheel image makes me worry that bad times are coming again. If my experience with my binge-eating is any indication, whenever I feel like I'm finally in control again, I live in the constant fear that it will come back, and, of course, it DOES. My eating problems seem to cycle. It is the managing of the bad times and holding out for the good times that has kept me going.
When that Ferris Wheel goes down again, hold on tight, my friend.
---
PostSecret's beneficiary is the National Hopeline Network. It is a 24-hour hotline (1 (800) SUICIDE) for anyone who is thinking about suicide or knows someone who is considering it.
Previous: Felicia Day Comments On Fast Food
Next: Use A Trigger To Make Exercise A Habit

4 Responses to "PostSecret: Cycle"
Leave a Reply
-