Today is the day that a lot of schools are starting up again. Will more of the students be driven to school or walk to school?
Well, back in MY day…
I used Google Maps Pedometer to check the mileage I walked to each of the schools I went to as a kid and pre-teen.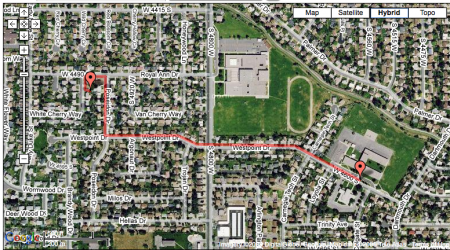 Academy Park Elementary: 0.70 miles
Hunter Elementary: 0.68 miles
Kennedy Junior High: 0.30 miles
Kearns High: 2.03 miles
I was expected to walk to Academy Park, Hunter and Kennedy, but I had a bus to take me to Kearns High. At only two miles, it doesn't seem like all that much anymore. I only walked it once in the three years that I went to Kearns and it felt like a million miles. Now, I walk two miles every day without even thinking about it. How can I be in better shape now than when I was a teenager and be fatter? It makes no sense to me.
Should kids walk to school? I think most of them are driven to school because parents are scared of child abductions. I have no statistics about the likeliness of a child to be abducted, but I know that a parent who walks their child to school kills two birds with one stone. Your kids arrive at school with a little exercise and safe and you get your workout done.
I never had to walk two miles to school in the snow, uphill both ways. Maybe that's why I'm overweight as an adult.
Previous: Quote of the Month: September 2008
Next: How To Get A Geek To Take A Walk

Leave a Reply
-