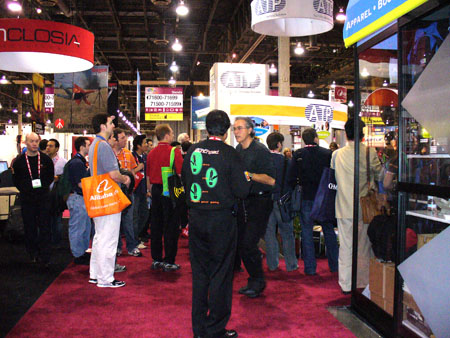 You are looking at the largest exergaming crowd on the Sands Convention Center at CES. The Sands is usually not very crowded at all, but what people who were there, were watching the Launchpad Golf Simulator for the Playstation 2.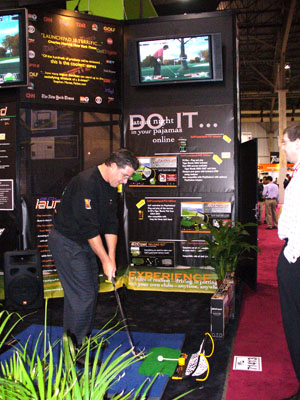 They were playing Tiger Woods on a Playstation 2 with the Lauchpad controller. The difference between Launchpad and most other golf controllers is that you can use your own golf clubs, not some silly imaginary golf club. The only problem with it is the golf ball. It doesn't move like a real golf ball because it connected to the controller. It's just close enough to the real thing to throw off your game in the real world.
Of course, all the exercise of golf in the real world is walking the courses with thirty pounds of golf clubs on your back. Take away that aspect and you can barely call this exergaming. There were so few exergaming options, however, that Launchpad drew a big crowd.
Launchpad is available for the PC and Mac computers and Playstation 2 on Amazon.com right now. Unfortunately, it's a little pricey for what you get, which is a controller for only golf games. If you are obsessed with golf, then this might be a fun option to while away the winter days. If you are looking for serious exergaming, however, keep looking.
Previous: CES 2007: Xavix
Next: Black Toenails: Final Update

One Response to "CES 2007: Launchpad Golf Simulator"
launchpad proud owner Says:
February 14th, 2007 at 7:13 am

u can use a real ball (if u got an indoor net) or a foam ball, if no net..for the launchpad! its real fun!
Leave a Reply
-