This postcard from PostSecret could have been my own, so it's comforting to know that there is another person out there who feels the same as I did.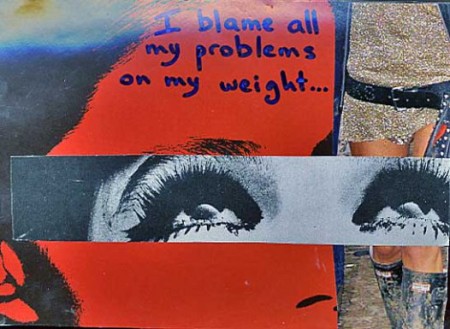 It reads:
I blame all my problems on my weight…
This was one of the biggest stumbling blocks to getting healthy for me. Just like the person who sent in this card, I thought that my life would be perfect once I got thin.
And then I got thin, or nearly thin…
And my life still sucked. I was starving myself (and bingeing as well), and I was still miserable, even though I was so close to my goal weight. It felt so pointless to put forth all this effort if being thin didn't solve the problem.
Ironically, when I solved my emotional and spiritual problems, eating healthy and exercising moderately became SO much easier. Now, I feel great AND I'm not starving myself. That's why the twelve steps are so helpful because they solve those problems that make you miserable so that you don't NEED to eat to forget them.
If you are feeling horrible and blaming everything on your weight, get yourself to Overeater's Anonymous and work through the steps diligently with a sponsor. Be entirely honest and you won't have as many problems to blame on your weight anymore.
---
PostSecret's beneficiary is the National Hopeline Network. It is a 24-hour hotline (1 (800) SUICIDE) for anyone who is thinking about suicide or knows someone who is considering it.
---
Overeater's Anonymous does not endorse anything on this entry or blog. I speak only of my personal experience and not for OA as a whole.