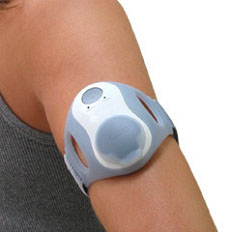 Back in 2005, I first heard about BodyBugg, which used a accelerometer to track body movements and make calorie adjustments for the day on a computer system. I wrote about it here:
My evaluation of these kinds of systems was pretty negative:
In the end, a piece of paper where you write down what exercise you did all day is almost as good and over $500 cheaper.
The thing is, I was WRONG. Pretty damn wrong, actually. After using the ActiveLink with the Weight Watchers system, I realized that I had been GROSSLY overestimating my exercise, even when I used a heart rate monitor. I wrote about that here: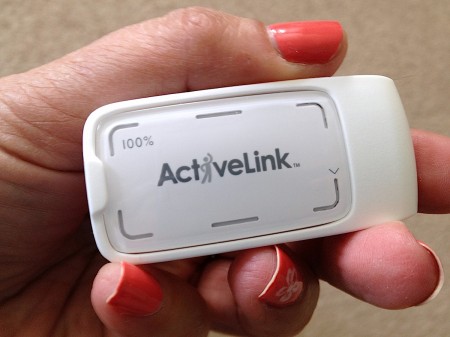 I said:
Since I followed the program exactly, I was very frustrated that I was only losing minimal amounts of weight. I now know why. I am such a SLUG during the day, that I was over-counting my exercise points. What I would have counted as four points, is only showing up as two points with the ActiveLink because my workday is so sedentary.
Suddenly, I realized that there is definitely a benefit to these accelerometers. The WW ActiveLink requires a monthly fee IN ADDITION to the fee that you pay to Weight Watchers to attend their meetings, so I thought I would try out a different one. I decided on the Fitbit Flex.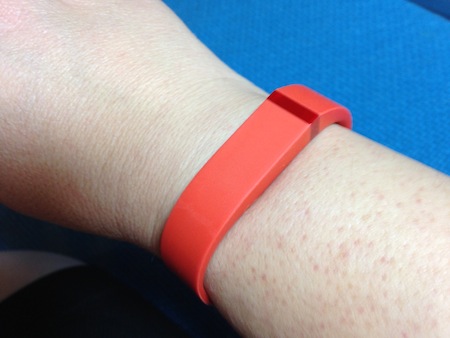 Honestly, my decision to go with the Fitbit Flex was based ENTIRELY on the fact that it worked with the Lose It! app and website, and it had interchangeable bracelets in a variety of colors. It's a silly reason to choose an exercise gadget, but if I have to wear a bracelet every day, it better match my outfit and look kind of cute. Oh, and my friend, Roland Smith, was using a Fitbit for his workouts and it seemed to be inspiring to him as well, so I was partial to that system.
After only a day's use, I can't really give a good evaluation yet; I'll add updates here later. For now, all I can say is the silent alarms are the ABSOLUTE best! I set one to wake me up this morning and Mike didn't even turn over. I was able to get up without bothering him a bit.
Additionally, I've set the silent alarms to go off for my snack and meal times. I've had great success with meal alarms and refeeding myself like an anorexic would. I talked about that before here:
The only problem with the alarms on my phone is that sometimes I'm not where my phone is, so it is chiming away while I'm working, unaware of it. By the time I notice that I've past my alarm time, I am starving and ready to eat FAR more than I should. In addition to that, those alarms are kind of embarrassing. I might be in the middle of a conversation with friends and the alarm goes off, disrupting everything. A silent alarm on my wrist is perfect. I turn it off, take the carrot sticks out of my purse and no one even notices.
So far, I love the Fitbit Flex, but the true proof is whether I lose weight when I use it faithfully. I did with the ActiveLink, so I suspect that the Fitbit will be the same, but I won't know for a few more weeks. I'll check back here and tell you how it went.
Update 01-13-14
I absolutely ADORE the Fitbit Flex. My favorite part is that it communicates with my Lose It! app, so I don't have to worry about entering my exercise or adjust my calories. That is taken care of with the Fitbit app and syncing.
I like the Fitbit Flex more than the ActiveLink because I don't have to pay money every month just to keep it working. They both seem to keep track of my activity as well as the other, but the Fitbit is easier to remember because it's on my wrist, instead of hidden on my bra strap.
I LOVE the interchangeable bands in so many colors: black, dark blue, orange, lime green, aqua, slate and pink. I get a little thrill every day when I change the band to match my outfit. I don't know why that is a factor, but I really love it.
I HATE the fastener on the bands, however.
How I WISH for a damn buckle! That little thing that is supposed to click into the holes is just HARD to do and not that secure. Please fix this, Fitbit!
I've had two problems with activity tracking: crocheting and cycling. If I put the Fitbit on my wrist, there is a serious problem with crocheting (and other repetitive crafts). It will read that I burned FAR more calories than I know I did. I just take it off when I'm crocheting.
When I'm riding the exercise bike, however, I have the opposite problem. It doesn't register a workout at all. I followed the advice of some to put the bracelet on my ankle in my sock, but that didn't register anything either. I haven't solved this problem yet, but as soon as I do, I'll post here.
On another note, I found a wonderful review of all the wristband fitness trackers here:
I'm happy with my Fitbit Flex and have cancelled my subscription to the ActiveLink, but I'll keep you posted on further developments here.
Update 01-27-14
I have not been able to get the Fitbit to accurately measure riding on the exercise bike. I've tried wearing it around my ankle under my sock and putting the Fitbit into a Nike+ pocket on my shoe. Neither one showed any significant workout, even though I worked my butt off.
Update 01-30-14
Well, it has taken nearly a month, but I'm finally used to the fastener on the Fitbit band. I can easily put it on now, where it would take me upwards of a minute to put it on before. I think I just needed to learn how to use that fastener and push it into the holes, or maybe the holes have stretched out and it's easier.
On another note, I've heard that some people are having trouble with losing their Fitbit because it falls off their wrist. I haven't had that trouble, but I'll keep my eyes open for it.
Related entries:
Previous: Sci Show: Fecal Transplants and Obesity
Next: The Pain I Endure

4 Responses to "Fitbit Flex: A Long Cry From BodyBugg"
Leave a Reply
-