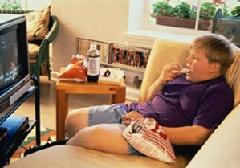 Something about this article doesn't sit right for me.
I think it's this line of reasoning.
While most parents agree childhood obesity is a major health issue, many underestimate their own children's weight and fail to take corrective steps to manage weight gain. Without intervention, childhood obesity can take a hefty toll on a person's life-long health.

"It is critical to address obesity in the childhood years – at home, and in schools and other community settings," says Matthew M. Davis, M.D., M.A.P.P., director of the National Poll on Children's Health. "But in order to address childhood obesity at home, parents must first recognize that a child is not at a healthy weight for their height. Parents also must be concerned enough to want to do something about their children's obesity."
I don't believe parents should restrict their children's diet. Every summer from the age of nine until seventeen, my grandmother placed me on a restrictive diet. I've written before about how misperceived my grandmother was about my obesity (or lack of it). The honest truth is that I don't think parents should try to help their child lose weight. They should lead by doing. If the parents eat healthy, the children will follow along. I've written about this before as well:
In the end, it bothers me that doctors are wasting money on these kind of studies and not working on figuring out what is making us fat in the first place.
Via: Teens and Their Parents May Underestimate a Weight Problem