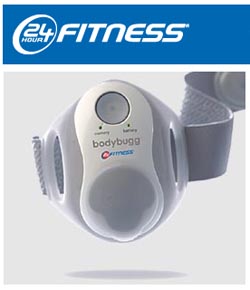 Two years ago, I wrote about Bodybugg, which is an overpriced gadget that attaches to your arm to measure your caloric expenditure:
Sometime last year, 24 Hour Fitness jumped on the Bodybugg bandwagon, offering the Bodybugg for $350 instead of the original cost of $500. Since 24 Hour Fitness is a major sponsor of The Biggest Loser, all the contestants are wearing a Bodybugg.
Now that Bodybugg is $150 cheaper than it was before, do I think it's worth it? Part of me says no. You can get all that information from a $100 heart rate monitor and a food journal. Why spend the extra money?
Of course, another part of me was surprised at how happy I was with the Nike+. I could have kept track of my runs with a running journal for almost free, but that $20 gadget changed my running habits for the better. I loved seeing the graphs of my runs and how well I was doing. Maybe the Bodybugg would do that for my eating.
Am I going to shell out the bucks for a Bodybugg? No, but I'm less certain about how worthless it is after experiencing the Nike+.
Previous: Nicole Lee Gets The Perfect Running Shoes
Next: Lose The Beer Belly!

43 Responses to "The Biggest Loser Uses Bodybugg"
Leave a Reply
-