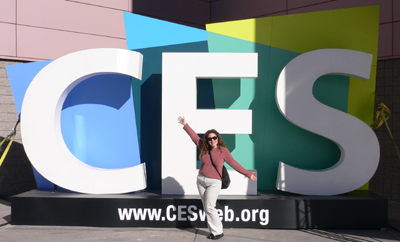 I just received an email verifying that I have been approved to attend CES 2007 with a press pass! I haven't received my pass yet, but I'm excited to announce that we will be covering CES 2007. If you would like to see the entries of all the cool stuff we saw at CES 2006, here is a list:
I saw a lot of items that are STILL not available for widespread distribution yet. Others are available, but they didn't work for the machines that they said they would work for. It's the cutting edge. When they finally DO become available, you can be the one to say you saw it first on Starling Fitness.
Previous: How To Use Walking Poles
Next: Question of the Week: Multi-tasking

3 Responses to "CES 2007: We're Going!"
John Says:
October 16th, 2006 at 6:34 pm

That's weird. I just read a thing on GameSpot (http://www.gamespot.com/news/6159857.html) saying CES 2007 has been shelved. Hopefully they decide otherwise, as there's always a lot of great things coming out of there.

Laura Moncur Says:
October 16th, 2006 at 7:43 pm

CES 2007 hasn't been cancelled, the games summit that they were going to have there was. They were going to decide if they were going to have a big video-gaming show (kind of how E3 was), but it doesn't look like they have enough interest from the manufacturers.

Jason Preston Says:
December 29th, 2006 at 1:23 pm

Hey Laura – good to see you got approved for the press pass. I'd like to invite you attend the bloggers-only party hosted by the Blog Business Summit team on January 9th.

You can find out more about the party on our website: cesbloggers.com, if you click through to the "blogger party" page.

If you're interested in coming, just shoot an e-mail off to Teresa (address attached to this comment) and we'll get you set up to go.
Leave a Reply
-