This is a portion of a photograph from the Library of Congress called Bulgar Evening Meal.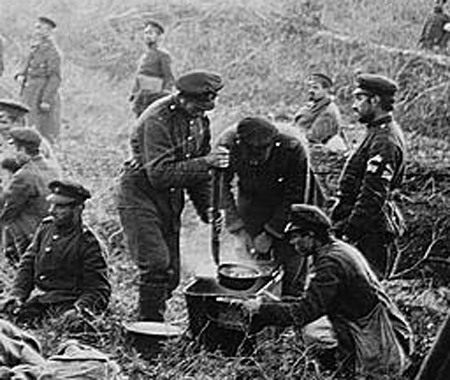 Bulgar is a whole wheat product that has been touted recently for its health benefits. Here's some information from Wikipedia:
The key attributes of traditional bulgur production are that the grain is parboiled, dried (usually by spreading in the sun), and the bran removed; significantly, it is processed from germinated grain, thus altering the glycemic index and nutritional values of simple wheat. Bulgur is often confused with cracked wheat, which is made from crushed wheat grains which have not been germinated nor parboiled. Although traditionally de-branned, bulgur and cracked wheat products available in shops may or may not have had their bran removed. Thus there are whole-grain, high-fiber versions of each. Bulgur is most often found in Turkish, Middle Eastern, Indian and Mediterranean dishes mainly Greece, Lebanon, Syria and Cyprus. It has a light and nutty flavor.

Bulgur can be used in pilafs, soups, bakery goods, or as stuffing, but is best known as a main ingredient in tabbouleh salad and kibbeh. Its higher nutritional value makes it a good substitute for rice or couscous. In Indian cuisine, bulgur or daliya is also used as a cereal with milk and sugar.
When I was a kid, my grandparents used to make cracked wheat for me for breakfast on the weekends. We would crumble a piece of bacon into the cracked wheat and eat it with milk. It wasn't a sweet dish (although sometimes my grandma skipped the bacon and had hers with Sweet N Low).
When I look at that photo of the soldiers preparing bulgar for their evening meal, I wonder what happened to it? Bulgar was something that people ate regularly and it virtually disappeared from our diet only to reappear almost a century later. It's kind of hard to cook. Did the advent of computer-controlled rice cookers bring it back? Is it the current obsession with "whole" foods?
Whatever the reason, bulgar is a grain that is quickly returning to the human diet. Get to know it and try eating it for breakfast or maybe your evening meal.