I remember reading The Mysteries of Uldolpho. I remember underlining quotes and adding them to The Quotations Page. Unfortunately, I never USED this quote the way I should have.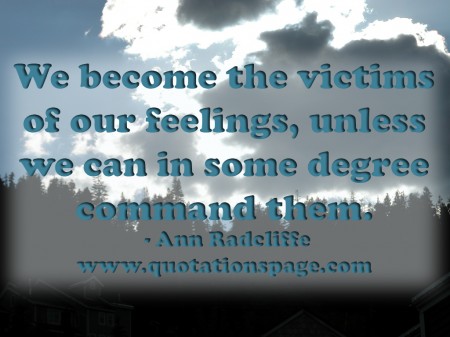 The FULL quote reads:
And since, in our passage through this world, painful circumstances occur more frequently than pleasing ones, and since our sense of evil is, I fear, more acute than our sense of good, we become the victims of our feelings, unless we can in some degree command them.

Ann Radcliffe, The Mysteries of Udolpho, 1764
Learning how to command my feelings is the ONLY thing that has changed my failure to get to a healthy weight to success. It's not some new diet plan. It's not a different exercise routine. It was learning how to harness my feelings. Learning how to diffuse my feelings. Learning how to command my feelings.
Does that mean that I will never again be a victim to my feelings?
No, but now I can keep those feelings of victimization to a minimum while I work on commanding them. Now I can do something to deal with them instead of eating to hide them. If I hadn't been taught how to manage these feelings when they come up, I would still have my head in the food. I would still be struggling.
Inner workouts are FAR more important that physical workouts. Learn how to manage your emotions and eating healthy will be easier.
Previous: Set Yourself On Fire
Next: Feel Like You're Going To Die

Leave a Reply
-