I love this quote that I read today: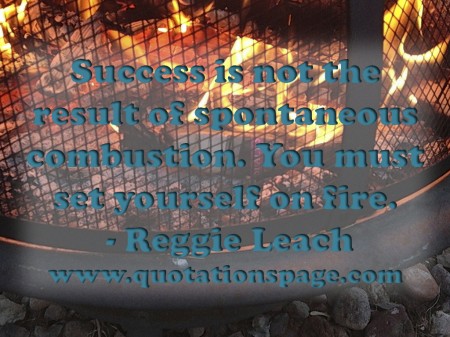 It reads:
Success is not the result of spontaneous combustion. You must set yourself on fire.
The hardest part in that quote is that "setting yourself on fire" thing. How do you do it? For me, the way to keep going, the way to keep setting myself on fire every single day is very simple.
It's a list.
I have a list of things to do every day. Some of the items are work related, so that I get things done and make some money. Some of the items are health related, so I finish my journey to a healthy weight. Some of the items are self-care, so that I don't go insane. I really think the self-care items are the things that make it easier for me to eat healthy.
Here is my list of self-care items:
Write one page in my journal
Exercise 20 mins
Meditate 15 mins
Be outside in the sun for 20 mins
Read 30 mins
Practice French
Something about reading for fun or learning a new language really adds to my feeling of well-being, so I've added them to the list. All of these things make me sane enough that I can eat healthy every day.
If you want to set yourself on fire, think about what you need for self-care and put them on a list every day. Every day, check off those items as you do them. Every day, when you are feeling crappy and don't want to do them, do them anyway. They are supposed to make you feel good. You're going to feel crappy before you do them, so feeling crappy isn't an excuse.
Don't depend on spontaneous combustion to get yourself going. Set yourself on fire every day.
Previous: No Fear of Perfection
Next: We Become The Victims of Our Feelings

Leave a Reply
-