I saw this quote and nodded in sadness.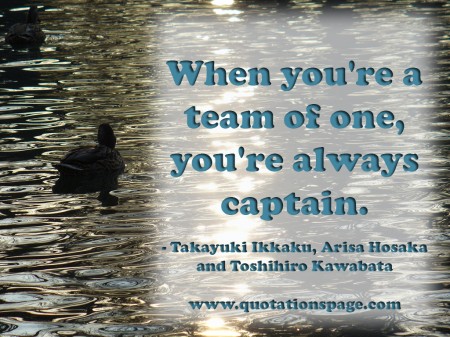 It reads:
When you're a team of one, you're always captain.

Takayuki Ikkaku, Arisa Hosaka and Toshihiro Kawabata
That is true. It is so much easier to be a team of one. No one to argue with. No one to pull you down. If you want something done, you just DO it and it's done. There's no waiting FOREVER for that lazy other team member to get their part done so you can do your stuff.
This is why I suffered with my binge eating for so long. I was so dependent on the idea that a team of one is better that I wasn't able to find recovery.
What I really needed was an actual TEAM. A group of people who knew EXACTLY what I was going through and were there to say, "You can do this. It's possible. Here's how." I NEEDED the people in Overeater's Anonymous to help me. I didn't need Weight Watchers. The people and the teachers there were loving and kind, but they didn't understand the addiction and didn't have any answers.
Now, I have a full team to help me in my recovery and I am NOT the captain. That's the best part. I am not in charge and all I have to do is follow the rules and continue to work hard and I am free of the compulsion to overeat. It's wonderful, even for a control freak like me!
---
Overeater's Anonymous does not endorse anything on this entry or blog. I speak only of my personal experience and not for OA as a whole.