I am running the Color Run in Las Vegas on February 28th next month!
If you don't know what the Color Run is, here is a video: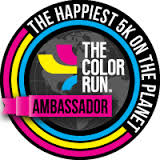 Yes, it's the race where they throw crap on you while you're trying to run a 5K…
It actually looks like a lot of fun and according to my friends who have done it, it is. I am excited to run it and I'm hoping you can come along. Heck, it's in Vegas at the BEST time of the year for that city, winter!
I joined the team, "Electric Sunshine." I have no idea what team that is or what they stand for, but it sounded hopeful to me, so I joined that one. If you want to be on my team, join Electric Sunshine and you'll save some money.
If you use this code: LASVEGAS You'll get another five dollars off the race entry fee.
Come run with me in Las Vegas!
Previous: PostSecret: I Blame All My Problems on My Weight
Next: SEVEN Fruits You're Eating Wrong

Leave a Reply
-