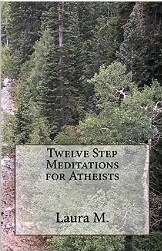 For the past four months, I have been working on a meditation book for atheists. The twelve step programs are so god-heavy that it's really hard for atheists to recover. I wrote this book to help others through this process. You can see it here:
I am so grateful to Overeater's Anonymous and I truly believe they saved my life, but at the same time, I wasted ten years trying to solve my eating problems on my own all because I knew that twelve step programs are very god-oriented. I am here to tell you that it is possible to find recovery without losing your atheism. If you are avoiding going to OA, AA or any other twelve step program because you don't believe in god, stop it. Go right now. Find a meeting and get yourself the recovery you deserve.
No god required.
---
Overeater's Anonymous does not endorse anything on this entry or blog. I speak only of my personal experience and not for OA as a whole.
Previous: The Universe Will Reward You
Next: Search for Virtues and Vices

One Response to "Twelve Step Meditations for Atheists"
JHG Says:
December 22nd, 2014 at 7:42 am

There is a growing number of atheists and agnostics in the rooms of twelve step programs. One of the results is a deeper understanding of recovery principles for everybody. I look forward to the publication of your book.
Leave a Reply
-