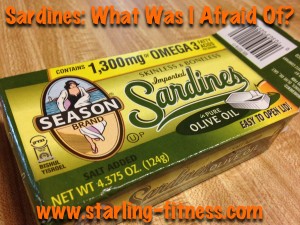 A friend on Lose It! had recommended sardines. He said that they are great for protein and they were healthier for me than tuna fish. According to Wikipedia, he's right:
Sardines are rich in vitamins and minerals. A small serving of sardines once a day can provide 13 percent of vitamin B2; roughly one-quarter of niacin; and about 150 percent of the recommended daily value of vitamin B12. All B vitamins help to support proper nervous system function and are used for energy metabolism, or converting food into energy. Also, sardines are high in the major minerals such as phosphorus, calcium, potassium, and some trace minerals including iron and selenium. Sardines are also a natural source of marine omega-3 fatty acids, which reduce the occurrence of cardiovascular disease. Recent studies suggest that regular consumption of omega-3 fatty acids reduces the likelihood of developing Alzheimer's disease. These fatty acids can also lower blood sugar levels. They are also a good source of vitamin D, calcium, vitamin B12, and protein.

Because they are low in the food chain sardines are very low in contaminants such as mercury, relative to other fish commonly eaten by humans.
Cool, I thought, but a vivid memory hindered me. My grandpa used to love sardines, but my grandma wouldn't allow them in the house. If he wanted to eat them, he had to sit out on the porch with a fork and the tin. The can wasn't even allowed in the house. He had to throw away the tin in the outside garbage bin.
If she thought they were that terrible, how good could they be?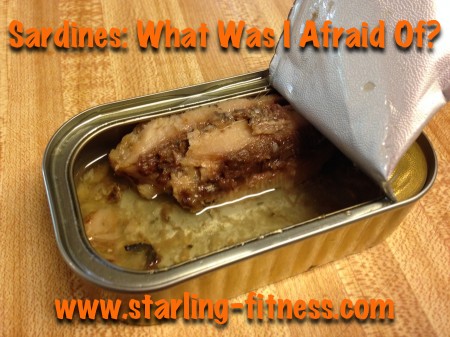 It took me over a month, but I finally bought a can and tried them. Now, I feel like an idiot. They taste great. Just like tuna in oil, in fact, and no smellier. The next time I'm feeling like tuna, I'm just going to buy sardines instead. Less mercury than tuna, better for the environment and tastes the same as tuna fish. I'm sold!
Previous: Give Me My BROCCOLI!!
Next: PostSecret: Obsessive Cravings

2 Responses to "Sardines – What Was I Afraid Of?"
Martin Says:
April 5th, 2014 at 7:38 pm

Excellent! I find them delicious, highly nutritious, convenient, and affordable.

Dina Says:
April 19th, 2014 at 2:26 pm

Love sardines! Usually just on toast but also as part of a Swedish cold plate on more festive occasions.

A funny thing about buying them, I found is that checkers don't seem to think women eat them! I always hear them say things like "My husband eats sardines, too!" And then I have to fess up.

They're also a great refuge from Fukushima-Pacific seafood anxiety right now as you can get plenty from Northern Europe…
Leave a Reply
-