We were at Trader Joe's the other day and at the sample station, they had a DELICIOUS salad that both Mike and I adored. I usually have a prejudice against lentils, so I didn't think I'd like the salad when they offered it to me. Then, I thought that it would be too difficult to make, but it was hilariously easy.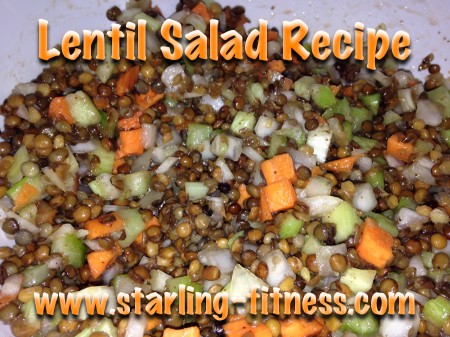 Lentil Salad Ingredients
1/2 cup chopped carrots
1/2 cup chopped onions
1/2 cup chopped celery
2 1/2 cups boiled lentils
3/4 balsamic vinaigrette
Lentil Salad Instructions
Mix together and chill.
Makes eight 1/2 cup servings at 158 calories, 8.3g fat, 15.9 carbs and 5.9g protein.
Trader Joes made this EXTREMELY easy because they had a container of pre-chopped carrots, onion and celery. The lentils would have been the hardest part, but they also had a package of boiled lentils. The salad was so easy to make and fed us for a couple of days. Yum!
Previous: Keep Going, Keep Going, Keep Going
Next: National Eating Disorders Awareness Week

Leave a Reply
-