One of the biggest stumbling blocks for atheists and twelve-step programs are the first few steps. In particular, the requirement to believe in a Higher Power as you know it. I may not be able to believe in an omnipotent, omniscient, omnipresent being who actually CARES about my inability to stop eating, but I can lay all my trust in science.
In the past, I have over-counted my exercise. I talked about that here:
Back then, I said:
Since I followed the program exactly, I was very frustrated that I was only losing minimal amounts of weight. I now know why. I am such a SLUG during the day, that I was over-counting my exercise points. What I would have counted as four points, is only showing up as two points with the ActiveLink because my workday is so sedentary.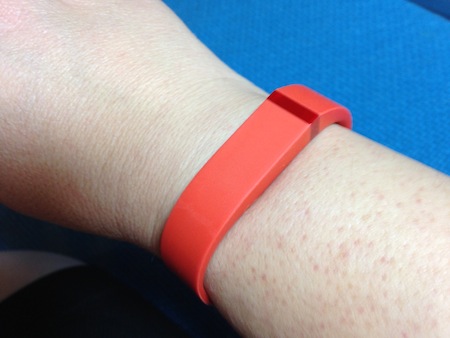 My solution was to count whatever the ActiveLink said, but now that I'm using the Lose It app, I needed something that worked with calories instead of Weight Watchers Points, so I bought a Fitbit Flex with my Christmas money and decided to faithfully use it as my Higher Power. It is ALWAYS on my wrist.
I've run into one problem with the Fitbit. I have not been able to get it to accurately measure riding on the exercise bike. I've tried wearing it around my ankle under my sock and putting the Fitbit into a Nike+ pocket on my shoe. Neither one showed any significant workout, even though I worked my butt off. This is one case where I need to trust my heart rate monitor and not worry about the outcome.
Additionally, the silent alarms on the the Fitbit Flex are a godsend. I set them for every two and a half hours and when they go off, I eat. No questions asked. I just do what my Higher Power tells me to do. The reason I do this is because eating tiny meals at such regular intervals has helped me be less hungry. I talked about that here:
Just like an anorexic, my hunger response is broken, so I don't eat when I'm hungry. I would be eating ALL the time if I did. I eat when the Fitbit alarm silently vibrates on my wrist.
It might be strange to consider a fitness gadget my Higher Power, but it has helped me stay honest about the amount of exercise I'm doing and reminds me to eat at regular intervals. I have humbly put my trust in its evaluation of my activity level and faithfully ate whenever it told me to. This simple faith and humility have helped me stay on my program for longer than I have been able to in years, so I'm not going to stop.
---
Overeaters Anonymous does not endorse anything on this entry or blog.
Related entries:
Previous: My Higher Power: Lose It!
Next: Stop Thinking And Hold On!

One Response to "My Higher Power: Fitbit Flex"
Sandra Grondin Says:
September 5th, 2014 at 9:15 pm

My fitbit wouldn't track when I was grocery shopping, I put it in my pocket and it picks up the steps. If you are riding outside try the map my fitness app, I know it syncs to my fitness pal, I think it also syncs to lose it and will therefore sync with your fitbit.
Leave a Reply
-