This postcard from PostSecret is touching AND insensitive.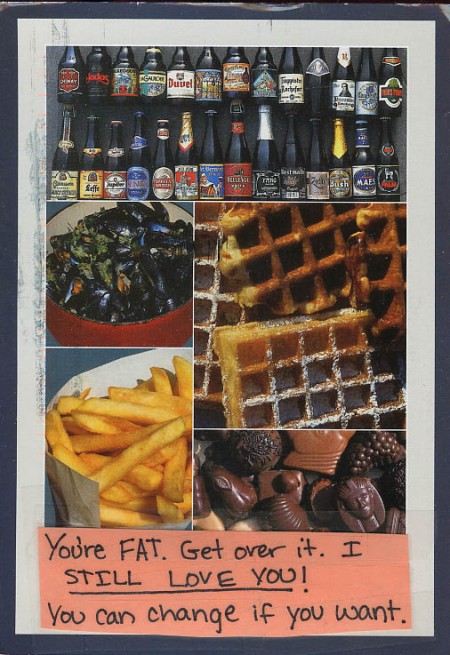 It reads:
You're fat. Get over it. I STILL LOVE YOU! You can change if you want.
If someone wrote this to me, I don't know how I would feel about it. Part of being able to change something is accepting it. I know that. I also would love to hear that an important person in my life loves me, even though I feel like a whale.
I guess the question in my mind that pops up has to do with the contradiction. If you love me, why would you care if I lose the weight? I guess you could love me AND want me to be healthy and fit. That's not a contradiction, really. Something in that card strikes me as wrong, though and I can't quite put my finger on it.
---
PostSecret's beneficiary is the National Hopeline Network. It is a 24-hour hotline (1 (800) SUICIDE) for anyone who is thinking about suicide or knows someone who is considering it.
Previous: Don't Be Fast, Greasy or Fake
Next: BOYCOTT Abercrombie & Fitch

One Response to "You're Fat. Get Over It. I STILL LOVE YOU!"
Ali Says:
March 17th, 2014 at 9:23 am

Well, it does say "if you want." To me it kinda seems like the person is upset about their weight and is always saying, "I'm fat, I'm fat" (hence the "get over it" part. If the "FAT" person didn't think they were they probably wouldn't have said that part) and they are saying yes, but IF YOU WANT we can change that. Maybe even I will help!!
Leave a Reply
-