This postcard from PostSecret tells us all something we already knew.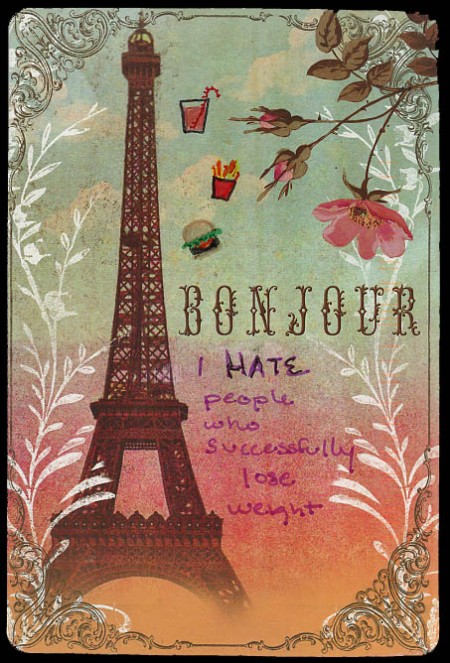 It reads:
I hate people who successfully lose weight.
Yeah, I know you do. You want to know why? It's because you hate YOURSELF. If you were at your goal weight, you wouldn't be trying to pull down everyone in their lives who were bettering themselves. You'd be happy and supportive of them.
I recently read, "I Got This" by Jennifer Hudson. After she lost all her weight, some people were literally ANGRY with her for getting healthy. She talked to her WW leader about it, and her leader asked her:
"Would you trade your weight loss for acceptance from others?"
It's an amazing question, because when I read that passage, I realized that, yes, I HAD traded my weight loss for acceptance from others. I had felt rejected by many people because of my new-found loss. I have the complete acceptance from those people now that I'm nearly one hundred pounds over my goal weight. Was it worth it?
Hell to the no!
The next time I feel that someone doesn't accept my weight loss and maybe even HATES me because of it, I'm letting it fall away from me. Either they will get used to the new, skinny me or they weren't worth it in the end. If you only like me because I'm fat, then you can not be my friend anymore.
---
PostSecret's beneficiary is the National Hopeline Network. It is a 24-hour hotline (1 (800) SUICIDE) for anyone who is thinking about suicide or knows someone who is considering it.
Previous: Fitnessive: A New Tumblr to Follow
Next: The Same Old Weeds

Leave a Reply
-