As you know, I've been running with Zombies, Run! I've talked A LOT about it, so if you have no idea what I'm talking about here are some refreshers.
Right now, I'm trying to get faster, so I'm going through the workouts on Zombies, Run! 5K. They are set between episodes 1 and 2 of the original app. Right after the death of the previous Runner Five. Just a warning, Sam (the radio operator) is a little distraught over her death.
I was running outside, which was perfectly fine, but the weather here in Salt Lake has turned snowy, slippery and dangerous again, so for a couple of workouts, I headed to the gym, with embarrassing results.
While I'm working out, Sam goes freakin' INSANE on me. Every time he mentions the previous Runner Five, I get teary-eyed until I'm SOBBING. Sobbing at the gym while running on the treadmill. It was so bad that after I finished my workout and stretched over on the mats, one of the elderly ladies walked up to me and asked if I was okay. I said I was listening to a radio serial on my phone and it was really sad and that clicked with her.
But my embarrassment level sky-rocketed.
I never get embarrassed, but apparently the kindness of old women recovering from hip surgery is enough to send me hiding from the gym. It's worse than the Bosu Ball Incident, which makes no sense because the woman was just being nice (instead of catty).
But honestly, I was crying my eyes out at the gym. What's the matter with me?
The answer was certain. I wasn't going to give up Zombies, Run! I had to get a treadmill at home so I could cry in solitude. And that's exactly what I did.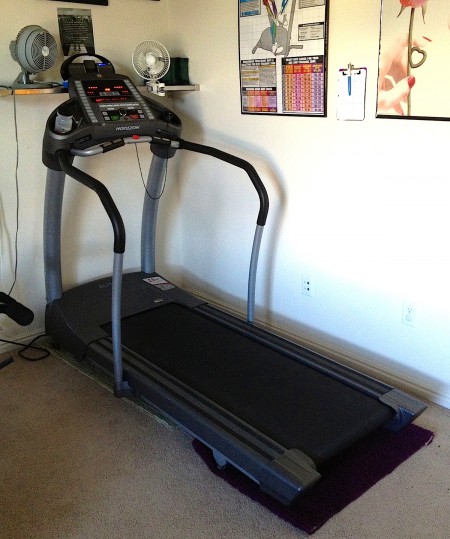 I'll write tomorrow about how we found it and how much it cost, but suffice it to say that there will be many more tear-filled workouts in my future. In fact, today's workout on the treadmill, I was so scared of the zombies that I was sobbing again, but no one was there to see it.
Previous: Lace 'Em Up
Next: How To Get A Treadmill for CHEAP!

Leave a Reply
-