I've talked quite a few times about the episode of Friends when Phoebe runs like a little kid.
My favorite quote from the episode is here:
"I run like I did when I was a kid because that's the only way it's fun. Didn't you ever run so fast that you thought your legs were going to fall off?"
You can see the important parts of the video here.
Someone actually made an animated GIF of Phoebe running and I just want to watch it over and over.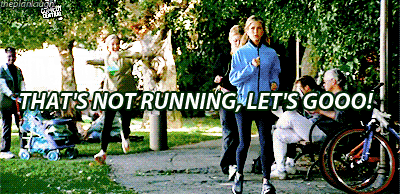 Phoebe's screaming:
That's not running, let's GO!
Animated GIF via: acciohealthylifestyle: if you're not running… – Turning day-dreams, into reality
Previous: Just Keep Moving Forward
Next: Gluttony Running on the Treadmill

Leave a Reply
-