This advertisement really inspired me.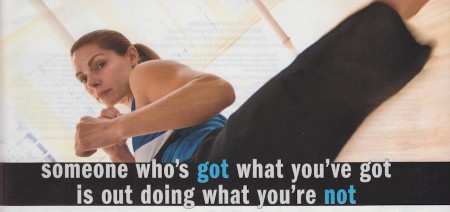 It reads:
"Someone who's got what you've got is out doing what you're not."
I know it was made for an advert for asthma medication, but the truth is, we ALL have our excuses and trials. We ALL have disabilities that we have convinced ourselves are true.
I have a shoulder injury, so I can't weight train.
I am so overweight that exercise is impossible for me.
I can't eat vegetables, they hurt my stomach.
I have weak knees, so I can't exercise.
I don't have the money for a gym membership.
I'm a big person. I can't eat like a rabbit for the rest of my life.
I'm busy. I don't have the time to eat healthy and exercise.
I have heard all of these excuses and FAR more. There are ways around every single one of these excuses and there are people out there with shoulder injuries, bad stomachs, weak knees, little money and high BMIs who are losing weight, keeping healthy and working out every day. EVERYBODY has something that keeps them overweight, but the thin people find ways to work around those excuses.
Previous: A Running Shower
Next: Weight Watchers on the Cover of People Magazine

5 Responses to "Got What You've Got And Doing What You're Not"
Leave a Reply
-