I saw this vintage ad and it confused me.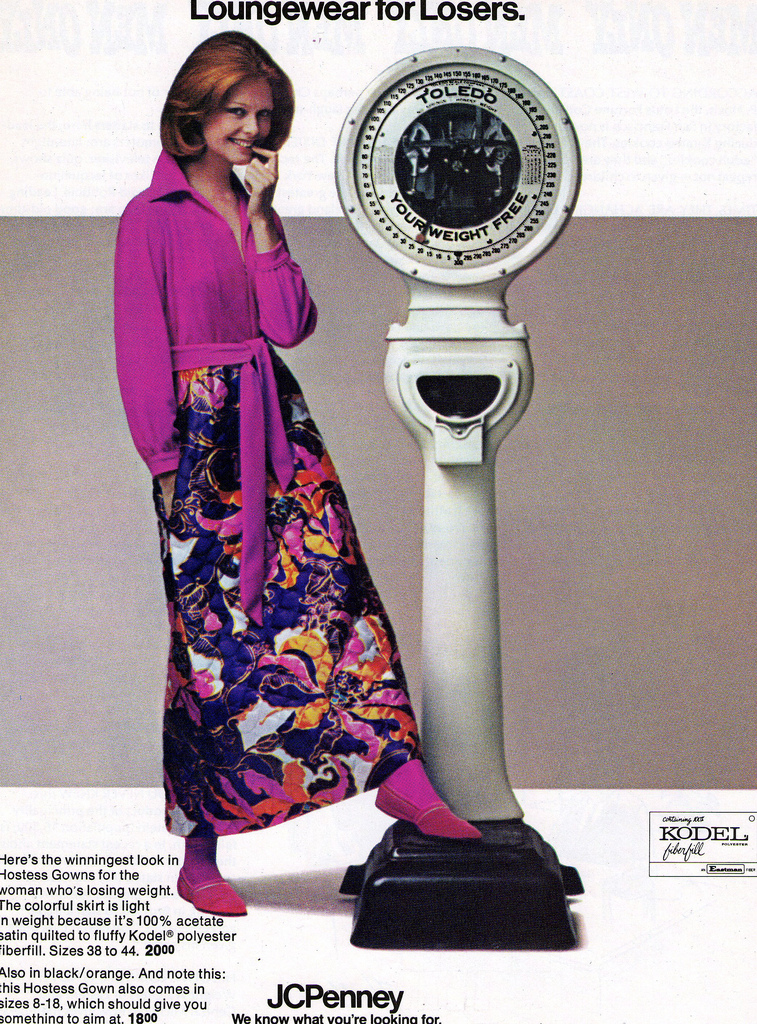 It reads:
Loungewear for Losers

Here's the wingingest look in Hostess Gowns for the woman who's losing weight. The colorful skirts is light in weight because it's 100% acetate satin quilted to fluffy Kodel polyester fiberfill. Sizes 38 to 44 $20

Also in black/orange. And note this: this Hostess Gown also comes in sizes 8-18, which should gie you something to aim at. $18
This "gown" looked like a robe to me. Was this something that people wore in public or was it for sleep? Fortunately, Xtabay Vintage explained it to me.
Back in the day, a hostess gown was a long dress the lady of the house would wear when she entertained. The dress only left the house to go to the cleaners, otherwise it was paired with silver mules or some other cross between a slipper and a sandal. In summer, the hostess gown might be made of cotton barkcloth with a Polynesian design custom made for Mai Tais on the patio. In the early 1960s, Vogue magazine even suggested having hostess gowns made to match your living room curtains and upholstery.

The hostess gown had many advantages. First, it was usually cut loose so that you wouldn't have to wear a girdle. Many of the gowns had comfortable empire waists. It was fancy and informal at the same time, so it let guests know that this was an occasion, yet they could feel comfortable in your home. Hostess gowns briefly morphed into maxi dresses in the early 1970s, but they quickly fell out of fashion to be replaced first with Carol Brady outfits.
So, this wasn't a robe, it was an informal dress that you wore when company came. I like that they made it in all sizes from 8-44, but the thought of wearing something so very quilted just makes me cringe. I think I'll stick to my blue jeans and sweaters instead.
Previous: Don't Drink Yourself Fat
Next: Mott's Figure Control Meals

One Response to "Loungewear For Losers?"
Valerie Says:
December 19th, 2009 at 3:22 am

I think it's intresting looking
Leave a Reply
-