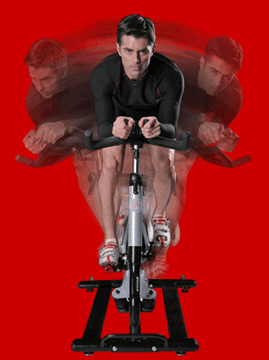 Every time I see an advertisement for a new kind of exercise machine, I just roll my eyes and wish they would just quit trying. This time, however, I got a little excited. I got an email about Real Ryder, which is an exercise bike that acts more like a real bicycle.
Introducing the RealRyder: It tilts, turns, and banks like an outdoor bike–works out the core, upper body, legs, cardio, and improves balance the way other indoor cycling bikes can't.
Here is a video of it in action:
The biggest problem that I can see with the Real Ryder is that you can't buy one. Just like so many other exercise products being advertised on the Internet, it's not just a simple case of giving them your credit card number to get one. There is no price listed on their website and buying one isn't as easy as filling out a form and waiting for FedEx. In fact, you have to contact a Sales & Marketing representative to even find out more information. Additionally, two of these "sales" people have the same last name. That smacks of nepotism to me, and I've found that it isn't the best way to run a company.
The Real Ryder is a GREAT idea. I'd love to see it made into a video game controller so I could play motocross video games using this bike instead of buttons. I have so many good ideas that could work with Real Ryder, but if I can't just give them my credit card and BUY one, I'm not going to believe they exist.
Update 07-22-12: It is nearly FOUR years later and the SHOP section of their website STILL says "Coming Soon." I think I can safely assume that they're never coming.