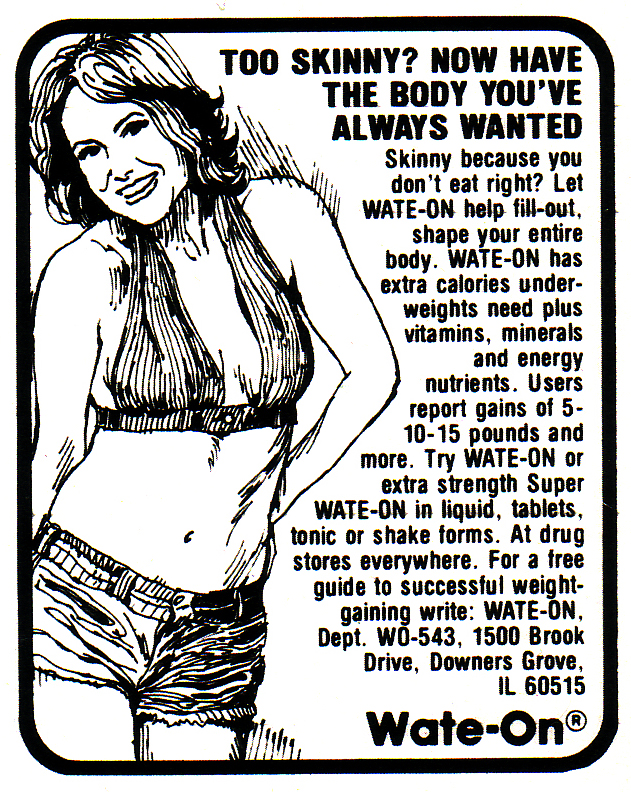 1984 was one of those strange times when being too skinny was still a problem. Now, too skinny means anorexic in the fashion industry and even though they pretend to think that's bad, they would NEVER advertise a product to rectify that "problem."
So, this ad for Wate-On is a strange thing to see now. The ad reads:
TOO SKINNY? NOW HAVE THE BODY YOU'VE ALWAYS WANTED

Skinny because you don't eat right? Let WATE-ON help fill out, shape your entire body. WATE-ON has extra calories under weights need plus vitamins, minerals and energy nutrients. Users report gains of 5-10-15 pounds and more. Try WATE-ON or extra strength Super WATE-ON in liquid, tablets or tonic or shake forms. At drug stores everywhere. For a free guide to successful weight-gaining, write.
Here are some other ads for Wate-On:
Until recently it was actually still available:
Based on its ingredients, it looks like an expensive version of Ensure.
Active Ingredients: Per 2 Tablespoons (30 mL): Total Fat (Saturated Fat 2.5g) 15g; Sodium 10 mg; Total Carbohydrate (Sugar 2g) 5g; Vitamin A 2000 IU; Vitamin C 20 mg; Vitamin D 200 IU; Vitamin E 15 IU; Thiamin 0.75 mg; Riboflavin 0.51 mg; Niacin 10 mg; Vitamin B6 1 mg; Vitamin B12 3 mcg; Biotin 0.015 mg; Pantothenic Acid 5 mg; Iron 9 mg; Zinc 7 mg; Copper 1 mg.
Inactive Ingredients: Hydrogenated Stabilized Soybean Oil; Water; Sugar; Propylene Glycol; Polyoxyethylene 20 Sorbitan Monolaurate; Sorbitan Monostearate; Xanthan Gum; Methyl Paraben; Sorbic Acid; Artificial Flavoring; Propyl Paraben; Ferric Citrate; Niacinamide; Panthenol; Pyridoxine Hydrochloride; Riboflavin 5 Phosphate; Thiamin Hydrochloride; Calciferol; Vitamin A Palmitate; Ascorbic Acid; dl-Alpha Tocopherol Acetate; Biotin FFC; Copper Sulfate; Zinc Oxide; Artificial Color; Butylated Hydroxytoluene; Cyanocobalamin.
The common thread to all of the advertisements are women with big breasts. I wonder if being "too skinny" is just a euphemism for being flat-chested. There are companies out there trying to take your money to make you thinner and others waiting to take your money when you get too skinny. Don't let yourself be tempted by their promises.
Previous: It Feels Good To Be Thin
Next: Walking Video: Wildwood Walk 2008

21 Responses to "Wate-On"
Leave a Reply
-