This postcard from PostSecret on MySpace reminded me of my own secret.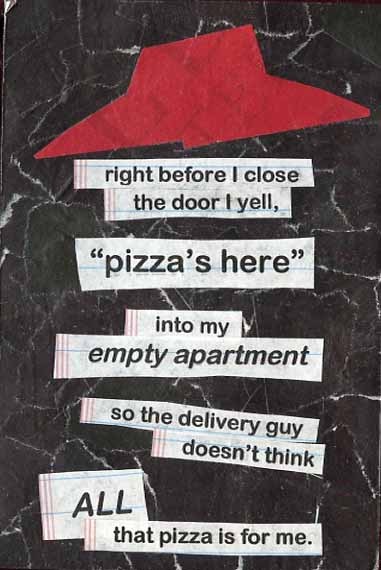 When I used to go to Krispy Kreme on a regular basis, I used to bring in a paper with all the donuts that I wanted listed on it. Then when I went in, I would read them off as if I was picking up the donuts for a whole office of people instead of just for me. Of course, I did this because I wasn't willing to go in EVERY day and order two donuts for myself.
Ironically, if I watch my points, I can work in two donuts a day and STILL lose weight.
Even worse, sometimes I'd end up eating more than just one or two donuts a day because the box full was siting there.
If I could somehow extract all the shame from my eating habits, I think I'd be a thinner person.
---
PostSecret's beneficiary is the National Hopeline Network. It is a 24-hour hotline (1 (800) SUICIDE) for anyone who is thinking about suicide or knows someone who is considering it.