I bet this postcard from PostSecret hits a nerve with a lot of people.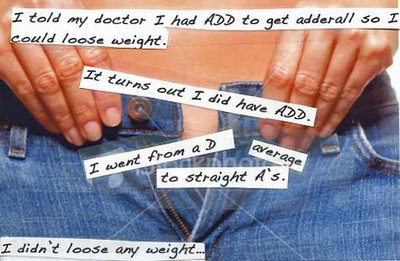 It reads:
I told my doctor I had ADD to get Adderall so I could lose weight. It turns out I DID have ADD. I went from a D average to straight A's.

I didn't lose any weight.
When Phen-Fen was first banned, I knew of a lot of women that told their doctors that they had ADD just to get half of the prescription. I think the most important thing from this secret is the last sentence, "I didn't lose any weight." Neither did any of my friends. They just ended up nervous and shaky and worrying about heart valve problems.
Don't submit to the pressure of being thin by trying weight loss drugs. Even the ones that get FDA approval have been dangerous in the past. Don't trust them now.
---
PostSecret's beneficiary is the National Hopeline Network. It is a 24-hour hotline (1 (800) SUICIDE) for anyone who is thinking about suicide or knows someone who is considering it.
Previous: Blind Prophecy Gets In Shape
Next: Modesty Ain't A Virtue

Leave a Reply
-