I have been running for years. The BEST jogging bra I have been able to find has been the Champion Action Shape Sports Bra. I have tried every kind of jogging bra out there and this is the absolute best. Here are the reasons:
Keeps everything in place
The most important reason to wear a sports bra is to keep from bouncing. With the Action Shape bra, I never have to clutch my arms around my chest during the fastest part of my run in an effort to prevent pain. EVERYTHING stays in place.
No Uni-boob
I know it sounds vain, but I don't like the Uni-boob effect that I get with some other jogging bras. I don't like the rubbing between my breasts (not to mention the sweat) and I think it just looks ugly. The Action Shape separates enough to make me comfortable.
No chaffing
Chaffing is the other reason to have a sports bra. My most sensitive areas are my nipples, where the straps hit my shoulders, and the bottom elastic on my ribcage. I have never had chaffing with the Action Shape, no matter how long my run. I can't say the same for any other jogging bra I've tried.
They last FOREVER
THIS is the BEST feature of the Action Shape bra. They easily last a year or two. I usually buy three bras, wearing them each for two workouts a week. I wash them in the washer and dryer without taking any unusual precautions and they last forever.
Here are the disadvantages: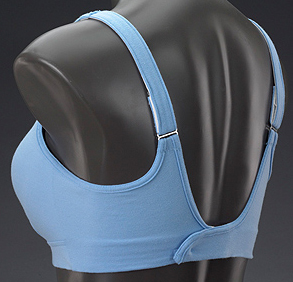 You can't wear it without a shirt
For all you nearly-nudists at the gym, this sports bra LOOKS like a bra. Despite the discreet bra hook coverup, it really DOES look like a bra, so you can't bear your midriff with this sports bra without looking like you're just shirtless.
The velcro shoulder strap adjustments can go awry and scratch your back shoulder
This is VERY rare, but the velcro that holds the bra straps at your desired length can get damaged and curled after MANY washings (I'm talking a year's worth). No matter what you do, it will always turn wrong and scratch up your back shoulder. This is nature's way of telling you to buy a new bra.
In the end, the Champion Action Shape bra is the best bra for running out there. I live in CONSTANT fear that Champion will discontinue them. I bought my first Action Shape bras at Lady Footlocker, but they stopped carrying those particular bras. Now, I buy them from Amazon.com here:
Previous: Complete Running Reviews the Nike+ Sportband
Next: Battle of the Deadly Sins

One Response to "Review: Champion Action Shape Sports Bra"
Kg Says:
May 26th, 2014 at 9:26 am

Hi there, This is my absolute favorite bra and I need a new one! I can't seem to find it anywhere…any ideas? Thanks!
Leave a Reply
-