This postcard from PostSecret showed up a couple of weeks ago.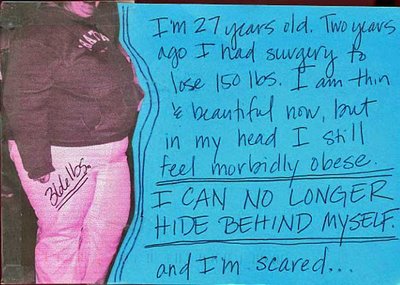 It's a pretty intense secret. It reads:
I'm 27 years old. Two years ago, I had surgery to lose 150 lbs. I am thin and beautiful now, but in my head, I still feel morbidly obese. I CAN NO LONGER HIDE BEHIND MYSELF and I am scared.
If you have ever wondered why so many people lose weight and gain it again, this postcard gives us an honest look into our minds. On the back of the postcard were written the words, "I miss being a lardass." Getting healthy and staying there isn't the same as just getting thin. It takes the entire body and mind to achieve and maintain that goal.
---
PostSecret's beneficiary is the National Hopeline Network. It is a 24-hour hotline (1 (800) SUICIDE) for anyone who is thinking about suicide or knows someone who is considering it.