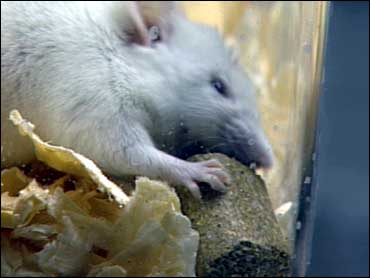 Ghrelin is a hormone that makes you more hungry, more focused on food and willing to eat more. This article from CBS mentions it:
We observed one illustration of ghrelin's power. A mouse was injected with the hormone. Just 15 minutes later, he was absolutely wild for food, even though he'd already eaten enough to be full.
This article from New Scientist explains it:
The hormone also made food more memorable. Volunteers better recalled the food pictures after they got the hormone, and an area of the brain involved in memory lit up when subjects viewed images of food.

Several pharmaceutical companies already have their sights set on ghrelin, as drugs that block the hormone may quell hunger and fight obesity.
I'm not so sure the pharmaceutical companies are setting their sites on ghrelin just to help us. What if they were double-dealing? What if drug companies sell us pills to block the hormone and at the same time, sell the hormone to fast food companies? The minute you take a bite of your hamburger, your appetite for food increases until you cannot stop eating.
That is the premise set up by io9, a science-fiction blog:
Since ghrelin isn't regulated, a fast food restaurant that wanted to sell more food could easily turn it into an additive in their hamburgers or donuts, essentially "addicting" people to their food. Or making them hungrier so that they buy more.
My paranoid mind convinces me that something like this could already be happening. When I eat whole foods from the grocery store, my appetite is satiated far quicker than when I eat processed food. What is it about processed food that makes me want to eat more? Is it more digestible? Has it been specially formulated to taste good?
It's not like grocery food would be safe either. Fresh meat, cheeses and vegetables could be infused with ghrelin, causing that insatiable hunger as well. In the future, we might have to go back to raising and killing our own food if we want to be healthy.
Previous: PostSecret: I Was Beautiful Too…
Next: Egg Thing

5 Responses to "Watch Out For Ghrelin"
Leave a Reply
-