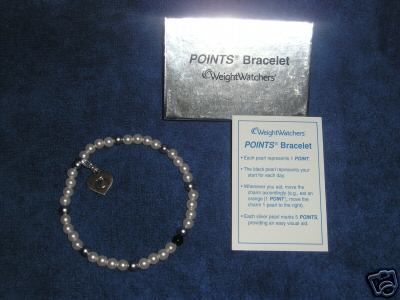 Weight Watchers sells a bracelet for counting points for about twenty bucks. It's not too pretty, but it features a movable charm that allows you to keep track of how many points you've eaten. The only problem with the bracelet is that anyone who has attended Weight Watchers would recognize those cheap pearls and black beads from a mile away. It practically screams, "I'm on Weight Watchers!!"
Sutherland Studios, however, has step-by-step instructions on how to make a similar bracelet.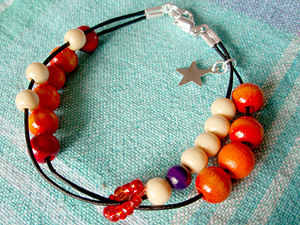 They suggest that you could use the bracelet to keep track of rows of knitting or crochet, but this would be genius for discretely keeping track of your Weight Watcher points. Since you are making it yourself, you can put the number of beads for YOUR points limit. The second string, with additional charms, could keep track of your veggies, dairy, oils and water. I imagine five green beads for veggies, six green beads for water, two white beads for dairy and two clear beads for oils.
Because you make it yourself, choosing your own beads, no one would be able to tell that it was for keeping track of Weight Watcher points. You could just privately move over the stretchy bead when you eat your meal unnoticed.
If you make a bracelet such as this, post a message in the comments linking to yours and show off your talents!
Previous: Spam: Redefining Food
Next: Runner's High Proven To Be Real

9 Responses to "Make Your Own Points Counter Bracelet"
Leave a Reply
-