Each week, I will give you step by step instructions on how to get into a swimsuit this summer. If you're short on time, scroll down to the end and read "The Short Version" to get your weekly tips.
---
Even though you might have a foot of snow outside your door, NOW is the time to get ready for swimsuit season. It will take you a few weeks to get swimsuit ready, so you MUST start now if you are going to be on the beach or at the pool this summer vacation.
This week's job is probably the hardest job you'll have this entire program. Before next Wednesday, you must buy a swimsuit.
I know it's freezing cold outside and you can't even think about wearing a swimsuit right now, but the stores have just got their swimsuits in stock. You MUST shop NOW if you want your choice of the best. If you wait until two weeks before your vacation, all you will have to choose from are the swimming suits that no one else wanted. Even though you have to wear a coat, boots and gloves to the store, go shopping for your swim suit RIGHT NOW.
What if I lose weight between now and summer?
Then you DESERVE to buy a new suit. Plus, suits are VERY forgiving. If you lose a little weight, it will still fit, believe me. If you lose a lot of weight, then you will happily try on the dregs of the swimsuits left over because you'll be that much thinner.
What should I buy?
There are lots of styles of suits out there. My most important recommendation is to buy a suit that feels comfortable. If you don't feel comfortable in the dressing room with no one watching, then you're certainly not going to feel comfortable when you are at the pool or in the hot tub.
In addition to your swim suit, look for a sarong or coverup that matches your suit. I want you to feel like an island princess with your suit and your sarong together. You might need to walk from your car to the pool or beach and I want you to feel comfortable. Imagine that you are bone thin and beautiful. If you were wearing your suit and sarong, would you be able to run into the grocery store to pick up some sunscreen before you headed out to the pool? I want you to feel like you're modestly covered up and a little sexy all at the same time.
Why bother?
I don't know about you, but too many summers of lost opportunities have gone by for me. I refused to participate in activities that I really wanted because I was "too fat." Honestly, if I had found a swimsuit that I loved and enjoyed, I might have been more willing to participate.
If I had lived with that attitude my whole life, there are a myriad of wonderful experiences that I would have never had, like snorkeling in Hawaii.
Back in 2002, we went to Hawaii. I had just started Weight Watchers, but it was before I ever lost any weight. If I had let my discomfort with a swimsuit bother me, I would have never gone snorkeling at Ka'paa Beach with Michael. I can't describe the joy I felt being able to feed fish out of the palm of my hand, but here's a photo.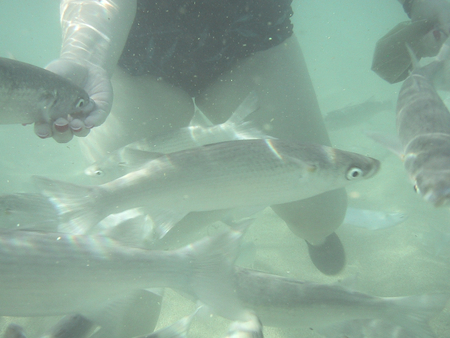 If you look, I wasn't svelte, but all of my body fears were forgotten when we were swarmed by the fish. It was such a joyful experience that even now, over six years later, I am still brimming with excitement and happiness when I see that picture.
If I hadn't bought a swimming suit that I adored before that trip, I would have never experienced this joy.
So, your job for this week is to purchase a swimming suit and matching sarong that you adore and feel comfortable in.
---
The Short Version:
Buy a swimsuit this week.

Buy a matching sarong this week.

Make sure you are comfortable in them both. Could you wear it in the grocery store without surprising anyone?
Previous: Advertisements For Medifast
Next: Body Image Is Stronger Predictor Of Health Than Obesity

2 Responses to "Get Into That Swimsuit This Summer: Week 1"
B. Says:
February 28th, 2008 at 10:15 am

I was sort of dreading this post from the title. Boy was I ever wrong! I can be preachy about body acceptance to myself and others, but as I read this, I realized that I have a little idea that maybe I'll lose just a little weight before I buy a new swimsuit. So, thank you for this timely lesson in self love and living fully.

I am going to buy myself a suit and a cover up! Something I feel gorgeous in right now. Thank you!

Rapunzel Says:
March 4th, 2008 at 2:46 pm

Great post! I was out of town with My Sweetie this past weekend and he suggested a dip in the hotel hot tub. Groan. I hadn't bought a bathing suit with me and dreaded trying one on, had hoped to wait a couple more months and hopefully drop a couple of pounds before then. It is what it is, though, so I just bit the bullet and headed to the local GAP, went right for the size Large because I knew nothing else was going to fit. You know what? I didn't look like a supermodel but in his eyes I was still cute and, better yet, I didn't miss a wonderful time with him because I was worried about my swimsuit body, or lack thereof! Life's too short, truly it is.
Leave a Reply
-