I have seen a lot of advertising for Medifast lately. Their current celebrity darling is Genie Francis, the woman who played Laura in General Hospital. Oprah lost her weight with Medifast back in the late Eighties, but she immediately started gaining the minute she went off the program. A public failure of their program is something that I'm surprised Medifast was ever able to recover from.
I don't mind celebrity endorsements, but misleading advertising is another story. This Medifast ad in particular bothers me: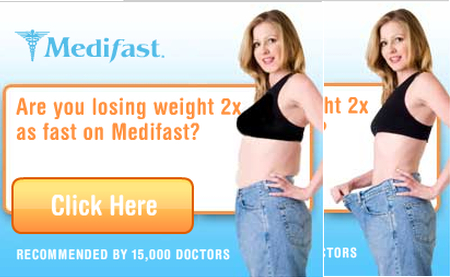 It was an animated ad that showed the girl fat, then thin. The thing that bothers me is that she isn't a success story. They don't claim that she is. They don't claim that the girl pictured lost any weight with Medifast, but having her there is misleading.
I KNOW that this isn't a before and after picture. How do I know? Shoddy Photoshop technique. When they used the photo editing software to make her "fat" they forgot to airbrush out her ribs. Can you see in the "fat" version? The shadow of her ribs are still there. I don't know about you, but I have never had the shadow of ribs show up in a photo, even when I am thin. You have to get EXTRA skinny to see your ribs.
This is the opposite of what Redbook did to Faith Hill. Instead of taking a perfectly beautiful woman and making her too thin, the advertising agency for Medifast took a strikingly thin girl and made her look fat for her "before" picture.
It makes me wonder. If Medifast REALLY can make you lose weight two times faster, then why don't they have some REAL people who lost weight in their ads? Why do they have to Photoshop themselves a good before and after picture?
When you go to their site, they have a handful of real people (in addition to Genie Francis) who have lost weight on their program, but why didn't they use them? Real people get a little sick of starving. That's what fasting is, starving. When their real customers go back to eating real food, they might have an embarrassing relapse just like Oprah Winfrey. So, it's better that they find a thin model for the after picture, fatten her up using Photoshop for the before picture and never mention her name. She's "just" a model afterall.
Sounds like the best thing to do is stay away from companies that are willing to bend the truth a little bit in order to get you to buy their product. Sure, they didn't lie. They never said that the beautiful blonde pictured in their ad lost weight with Medifast, but having her on their advertisement is manipulative and shady. Don't trust your health to a company who's willing to cross those lines.
---
Here are some other articles about altered images and what they do to our view of ourselves:
Previous: Kirstie Alley Creating Her Own Weight Loss Plan
Next: Get Into That Swimsuit This Summer: Week 1

6 Responses to "Advertisements For Medifast"
Leave a Reply
-