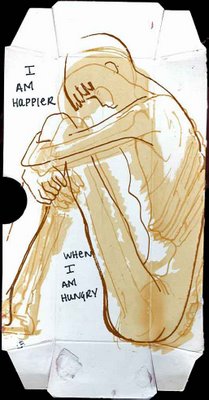 No matter how smart I get, there is still a desperate little girl inside of me that wants to be skinny at any cost. When I saw this postcard from PostSecret, my first thought was, "God, I wish I could be like this."
Honestly, I am happier when I am eating.
I have tried for years to change this aspect of myself, but even after years of behavior modification, I am the same. I know I say that you should never wish anorexia on yourself, but seeing this postcard makes me long for a different problem. Instead of the bingeing, how about the starving? Can I trade one for the other?
I do know one thing. For years, I tried to give myself anorexia. I starved myself for days. I subsisted on Slim Fast for weeks. No matter what I did, it always ended up in a binge. Even eating healthy for years can end up in a binge. I am constantly fighting or succumbing to the binge monster at all times.
I guess it's time to give up the idea that I will magically be anorexic and get skinnier than I've ever been, but it's also time to give up the idea that I will magically be free from wanting to binge. I need to accept myself the way I am and work on being healthy from that point of acceptance.
---
PostSecret's beneficiary is the National Hopeline Network. It is a 24-hour hotline (1 (800) SUICIDE) for anyone who is thinking about suicide or knows someone who is considering it.
Previous: New Year's Resolutions: Week 8
Next: The One Where Phoebe Runs

8 Responses to "PostSecret: Happier When I'm Hungry"
Leave a Reply
-