I love my iPhone, but I have to be honest, I had to give up some cool features when I switched from my Treo. On my Treo, I had a program that would let me track my WW points and calculate the points of an item if I had the calories, fat and fiber of the food. I've been doing Weight Watchers for so long, I hardly used that calculator, but every once and a while, I miss it, mostly when I'm grocery shopping.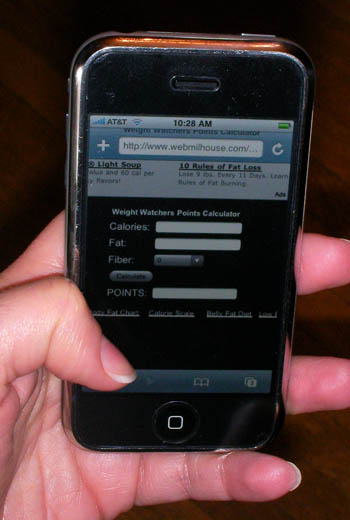 Thanks to Alternative Sunshine, I can once again have a WW Points Calculator in my pocket. This little website works with the iPhone and it easily loads even on EDGE's slow network:
Of course, this website works on your computer just fine as well, so if you're at work and need to calculate points quickly, you have an option.
I'm so grateful for little applications like this to help me when I'm in a pinch. I kind of miss my Treo, but here is one less reason to miss it. If only I could use my iPhone as a USB modem like I used to with my Treo, then I would be set!
Previous: Visualize Your Marathon
Next: SkinnySongs: Inspirational Music For Your Workouts

15 Responses to "Weight Watchers Points Calculator for your iPhone"
Leave a Reply
-