Since I've found Runner+, I hadn't logged onto the Nike+ website for a while. I thought I'd check out the Nike+ website to see how they're doing and to see if they released that cool Nike+ watch that I had read rumors of months ago. Their site is still a clunky Flash site that is difficult to use. Instead of the Nike+ watch, they were advertising the Nike Amp+, which is useless to me. Worse still, I found a link to buy a replacement sensor.
Cool, I thought! I needed a replacement sensor and I ended up buying a whole new Nike+ kit for twenty dollars at the Apple store. I could use the replacement sensor on my old kit and give it to Mike or my sister. I clicked to add the sensor to my shopping cart and this is what I found: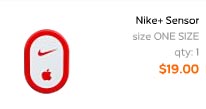 $19?! Are you kidding me?! You expect me to pay one dollar less than an entirely new kit?! Really?!
Every time I start to like Nike (I was loving my Air Zoom shoes), they do something like this and make me HATE them all over again.
Kiss my a$$, Nike, I'm buying a Garmin Forerunner 50!
Update 02-22-09: It has been a year and a half since I wrote this entry and I can't believe how WRONG I was. Firstly, the sensor all by itself is TEN dollars less than a whole kit. I kind of got a little confused there.
More importantly, I LOVE my Nike+. Not only did I NOT buy the Garmin Forerunner 50 (doesn't work with a Mac), I've bought TWO Nike+ sensors. They each have lasted about a year. I keep the sensor in my running shoes all the time, so it gets a lot of work. Twenty dollars a year is totally worth it.
Two weeks ago, the indicator on my Nano said that my sensor battery was low. I didn't even flinch. I immediately got myself to the Apple store and bought a new sensor without grousing at all. I love my Nike+ that much. Garmin just haven't figured out the social aspect of Nike+ and I'm beginning to think they never will. Nike UNDERSTANDS that I want to race against other people every week.
Whenever I run, it's ALWAYS with my Nike+ and Nike+ running shoes. I have been hard on Nike in the past, but honestly I LOVE my Nike+.
Previous: Running Pile
Next: Is Thinner Healthier? Researchers Say NO.

25 Responses to "Nike+ Replacement Sensor: Are You Kidding Me?!"
Leave a Reply
-