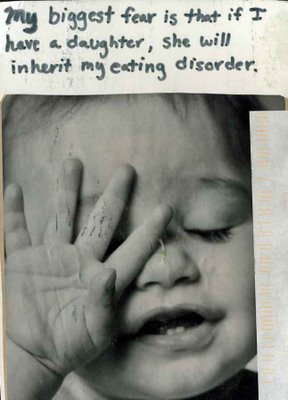 I worry about this all the time. I learned to binge by watching my father overeat. Will I teach my unborn children to binge. It's enough to scare me away from having children.
Of course, there is the opposite fear. My child will watch me binge, be disgusted with me and become anorexic.
I have no idea how to raise a healthy child eating unless I eat healthy myself.
---
PostSecret's beneficiary is the National Hopeline Network. It is a 24-hour hotline (1 (800) SUICIDE) for anyone who is thinking about suicide or knows someone who is considering it.
Previous: Runner+ Challenge Winners (09-17-07)
Next: Nicole Lee Gets The Perfect Running Shoes

2 Responses to "PostSecret: Eating"
iportion Says:
September 26th, 2007 at 8:37 pm

That is why I wanted to get healthy for my family. I don't think eating well is selfish. In fact it's giving. I think it has to be more than just doing it for yourself.

true Says:
August 20th, 2009 at 5:01 pm

I inherited mine from my mother.
Leave a Reply
-